xlivvielockex.livejournal.com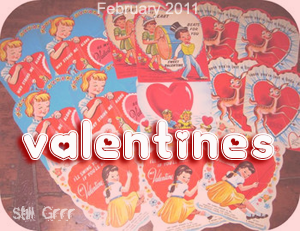 FEBRUARY'S THEME IS VALENTINES!!
THIS THEME WILL START WITH PROMPT 208 ON THURSDAY EVENING
We've done a lot of anti-love and crack kind of prompts for February so I thought this year we would mix it up. I think most of us remember that special time of year in school, where we took a day to make mailboxes out of construction paper and we waited eagerly for it to be filled with valentines from our classmates. Who can forget Ralph Wiggum and his now famous "I ch-ch-chose you" valentine to Lisa Simpson? That is what this month is about.
I have found some great vintage valentines and each week, I will post six of them. You can use them to inspire you however you like. It could be the text that inspires, the picture, you could put them in fanart. It is all up to you. I broke them down into three categories and at the end of the month, it will be up to you to find a valentine that inspires you.
The special prompt this month will be a surprise and announced on the prompt post (since it is a picture, I don't want to spoil it).